Bring the style and elegance to your room walls with gypsum boards.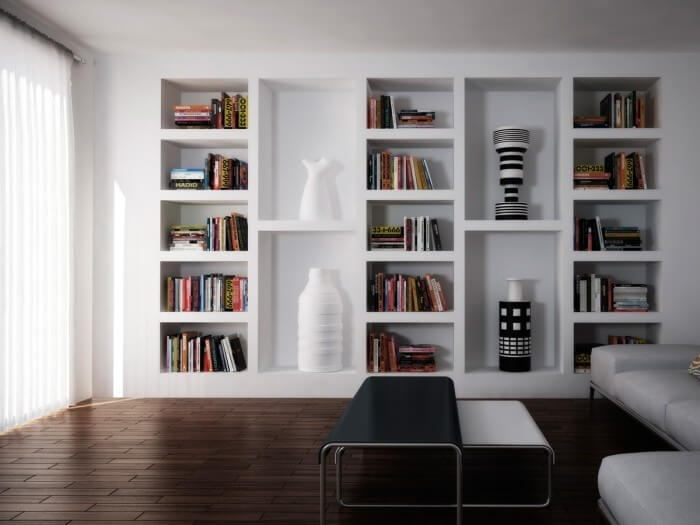 Our living room is the place where we spend the most of the time and we ensue we design it the best. Apart from other interior aspects that we look into, we also think a lot about playing with the walls. Don't we all just love to beautify our walls in a useful way? What if we can come up with stunning designs that reflect elegance to your room space at the same time be useful too? Well, modern day interior designing has a lot to offer us in terms of beautifying our room spaces effectively. Wall units in the living room and office spaces are no longer about simple boxes or shelves. Wall mounted units are the new thing in the home and office interiors which not just look seamlessly beautiful but are also a good option to maximize on floor space too.
When we talk about modern wall units designs, we basically relate to wall units that feature a number of sections to choose from varied shapes, colours, combination and sizes. We now have various options like wood, plaster, gypsum boards etc. to design the wall units. Gypsum board is one of the best option available to us. It is also called drywall, wallboard, or plasterboard. It differs from other panel-type building products, such as plywood, hardboard, and fiberboard, because of its non-combustible core and paper facers. When joints and fastener heads are covered with a joint compound system, gypsum wall board creates a continuous surface suitable for most types of interior decoration.
So gypsum boards or drywall is the most universal among all modern building materials. Usually it is used to level the walls, but now it is also used in designing wall units. Some of the advantages of drywall are:
It is a safe material, consisting of plaster and sheets of cardboard.

It is easy to process, therefore it is easy to create arches, podiums, niches and other elements from it.

It is lightweight.

You can use gypsum board waste to realization ideas.
Hence, there is a lot that can be done through gypsum boards and add that spark to our room spaces. Now you know what you have to look for when you decide to go in for designing a wall or a wall unit.